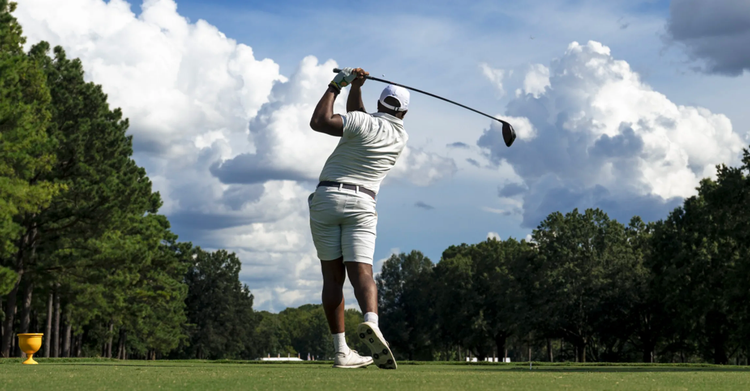 PRESIDENTS CUP TO HOST CHARLIE SIFFORD LEADERSHIP SUMMIT
Event to feature thoughtful discussion on DE&I with corporate and HBCU representation
CHARLOTTE, NORTH CAROLINA- AUGUST 29: Competition during the Charlie Sifford Centennial Cup at Quail Hollow on August 29, 2022 in Charlotte, North Carolina. (Photo by James Nix/PGA TOUR)
CHARLOTTE, North Carolina – The Presidents Cup, in partnership with Bridgestone, Citi, Cognizant, and Nucor, will host the Charlie Sifford Leadership Summit, a thought leadership event to be held at the Knight Theatre on Wednesday, September 21, 2022.
"We are excited to put a meaningful punctuation mark on the end of a year-long celebration of Dr. Sifford's legacy with the Charlie Sifford Leadership Summit," said Presidents Cup Executive Director Adam Sperling. "The Leadership Summit is meant to bring together leaders and educators in the businesses of advancing diversity and opening new doorways to inclusion. I think the program we have in store for the attendees, inclusive of corporate partners, non-profits, HBCUs and community members, will be an opportunity to learn and form new inroads for Diversity, Equity, and Inclusion in and around the Charlotte community."
The Summit will highlight representatives from Bridgestone, Citi, Cognizant, and Nucor, as well as other leadership executives from the world of sport, and presidents and board members from HBCUs, with an in-depth discussion focused on DE&I efforts at the intersection of sport and corporate America, and the integral role HBCU programs can play in the growth and success of those efforts.
"We're thrilled to be working with Presidents Cup to honor the legacy of Dr. Charlie Sifford and talk about the integral role HBCU programs can play in improving outcomes and opportunities for diversity, equity and inclusion," said Michelle Thornhill, Director of U.S. Community Relations at Citi. "At Citi, we're focused on helping provide HBCU students with useful tools on their path to professional success, so I look forward to this discussion."
"This Leadership Summit represents a critical opportunity to focus on the integral roles we can all play in improving outcomes and opportunities through greater diversity, equity and inclusion," said Shameka Young, Vice President and Global Head of Diversity and Inclusion at Cognizant. "Cognizant is proud to join HBCU leadership and organizations committed to making impactful D&I efforts on and off the field."
Throughout the course of 2022, the PGA TOUR has honored the legacy of Charlie Sifford – the first African American to play on TOUR – during what would have been his centennial. A Charlotte native, Sifford was also a four-time tournament winner and World Golf Hall of Fame member. In support of the PGA TOUR's initiative to honor Sifford, the Presidents Cup will host the Leadership Summit, set to include:
Partner Panel: "DE&I at the Intersection of Sport and Corporate America"
Panelists:
Ebonee Davis-Ifeobu, Vice President, Diversity, Equity & Inclusion, Bridgestone Americas
Dan Krug, Vice President, Talent, Nucor Corporation
Michelle Thornhill, Director, U.S. Community Relations, Citi
Shameka Young, Vice President, Global Head, Diversity & Inclusion, Cognizant
The panel will be moderated by Marsha Oliver, Senior Vice President, Community & Inclusion, PGA TOUR.
Presidents Round Table: Champions of Communities
Clarence Armbrister, President, Johnson C. Smith University
Essence Winston, 96th Miss Johnson C. Smith University
Shevrin Jones, Florida State Senator and Member of President Biden's Board of Advisors on Historically Black Colleges and Universities
Thomas W. Dortch, Board member of FAMU and Clark-Atlanta University and Chair of the 100 Black Men of America
The panel will be Moderated by Alex Baldwin, President, Korn Ferry Tour & Chair of the PGA TOUR HBCU Task Force
Other VIP speakers expected to make appearances to the event include:
Vi Alexander Lyles, Mayor of Charlotte
Johno Harris, 2022 Presidents Cup Tournament Chairman
Jay Monahan, PGA TOUR Commissioner
The Leadership Summit comes on the heels of a yearlong celebration of Charlie Sifford's legacy, as Sifford would have turned 100 on June 2 of this year. In August, the Presidents Cup contested the Charlie Sifford Centennial Cup, with six top HBCU golf teams competing in a team competition at host Quail Hollow Club. Led by players from Alabama State University, Florida A&M University and Livingstone College, Team Charles Sifford, Jr., won the inaugural event, 12 to 6.
The 2022 Presidents Cup will be held at Quail Hollow Club, September 20-25. For more information about the Presidents Cup or to purchase tickets, please visit PresidentsCup.com.