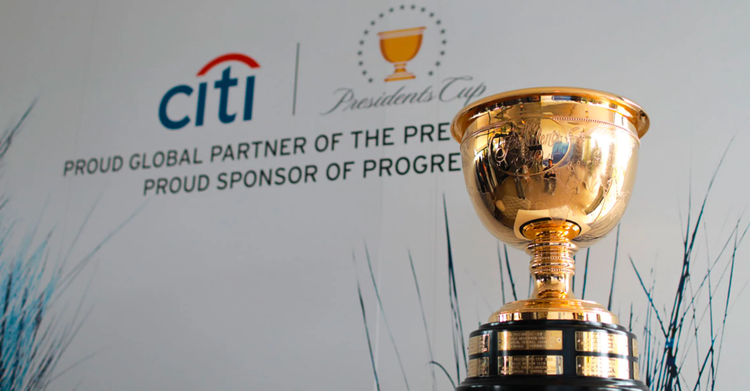 PRESIDENTS CUP AND CITI OFFER FANS A VARIETY OF ON-SITE EXPERIENCES AND CARDMEMBER BENEFITS AT QUAIL HOLLOW CLUB
CHARLOTTE, North Carolina – Entering their 14th year as a Global Partner of the Presidents Cup, Citi will offer several on-site activations for fans and cardmembers at the biennial international team event coming to Quail Hollow Club, September 20-25. A handful of experiences will be provided to cardmembers including preferred pricing on grounds tickets, concessions, merchandise from the Fan Shop, and access to the Citi Lounge. Additionally, Citi is offering all fans access to the Citi Interactive Zone and mobile chargers throughout the grounds.
"At Citi, providing exclusive experiences for our clients is paramount and Presidents Cup offers the perfect opportunity to do just that," said Ryan Djabbarah, Citi's Global Head of Sponsorships, Entertainment & Experiential. "We are excited to offer our cardmembers everything from Citi Lounge access to concession and merchandise discounts, but it doesn't end there. All fans can enjoy our Interactive Zone and mobile charging stations."
Located on No. 9 green, Citi cardmembers can enjoy the Citi Lounge, an exclusive venue with food and beverage for purchase and a relaxing area to watch matches coming through the 9th hole and starting on the tee of the par-3 10th hole.
Citi cardmembers can also take advantage of a 10 percent discount at concession locations throughout the course as well as in the Fan Shop when using their Citi® credit card or Citibank® Debit Card.
The Citi Interactive Zone, located to the right of No. 16 fairway, will offer fans an interactive way to participate outside the ropes at Presidents Cup. Open to the public, fans are encouraged to come try out virtual swing simulators replicating holes at Quail Hollow Club, as well as take their shot at the chipping and putting greens at the club's short-game facility.
Citi will also provide mobile charging stations located around the course to help fans keep their devices powered up, allowing all spectators to access a mobile charger rental at no cost to them. The charging stations can be found at the Citi Interactive Zone, Citi Lounge, Info Booth near No. 8 fairway, NoDa Fan Area, and near Palmer's Place by No. 2 green.
"As a long-standing Global Partner of the Presidents Cup, we are always excited about the programs that Citi implements for their cardmembers," said Presidents Cup Executive Director Adam Sperling. "The Presidents Cup takes pride in working with Citi to develop creative fan experiences that deliver another level of excellence for cardmembers. Next week in Charlotte, the tournament aims to provide the utmost Southern hospitality when fans arrive at Quail Hollow Club, and we know the experiences Citi offers only amplifies that."
For information on tickets, parking and transportation, visit PresidentsCup.com.