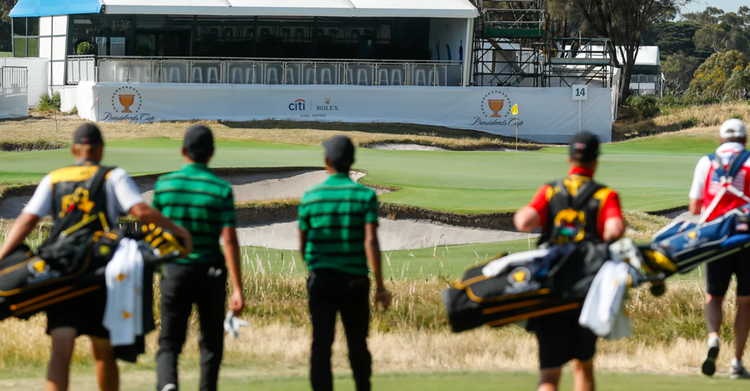 2022 JUNIOR PRESIDENTS CUP TEAMS FINALIZED
Carson Kim (U.S.) and Juan Velasquez (INT) secure 12th and final spots
CHARLOTTE, North Carolina – The Presidents Cup and American Junior Golf Association (AJGA) today announced the final teams for the 2022 Junior Presidents Cup, with the event's third edition set to tee off on Sept. 19 at Myers Park Country Club in Charlotte, three days before the 2022 Presidents Cup begins at nearby Quail Hollow Club. The 12th and final Junior Presidents Cup players for the U.S. Team and International Team were finalized as of Sept. 8, with Carson Kim of Yorba Linda, California and Colombia's Juan Velasquez earning the final spots on the U.S. and International teams, respectively.
The Junior Presidents Cup is a two-day, team match-play competition featuring 24 of the world's top junior boys 19 years old and younger – 12 from the United States and 12 from around the world, excluding Europe – that takes place just days before the start of the biennial Presidents Cup. The Junior Presidents Cup was developed to give the world's best non-European juniors a unique playing opportunity to compete in an international team match-play competition and showcase the global reach of junior golf.
Set in the historic Myers Park neighborhood south of Charlotte, Myers Park Country Club opened in 1921 and debuted its Donald-Ross designed layout in 1944. In 1945, Byron Nelson began his record 11-tournament winning streak at Myers Park Country Club, with his victory at the Charlotte Open giving the club significant national notoriety. Ten years later, Myers Park Country Club added to its championship golf resume by hosting the 1955 U.S. Women's Amateur.
Kim, a 2023 University of Southern California commit, finished fourth in last week's Junior PLAYERS Championship presented by Rolex to secure his debut appearance on the U.S. Team at the Junior Presidents Cup as the highest-ranked player on the Rolex AJGA Rankings who was not otherwise qualified as of Sept. 8.
Kim will bring a successful match play resume to Myers Park Country Club, having earned a 3-1-0 record in the AJGA's Wyndham Cup in 2022.
The U.S. Team is represented by nine different states, including three players from Texas and two from California. Three players are Rolex Junior All-Americans (Eric Lee, Ethan Gao, Aaron Pounds) while three advanced to at least the Round of 16 at the 2022 U.S. Junior Amateur (Lee, Johnnie Clark, Preston Stout).
2000 Presidents Cup participant Notah Begay III will captain the U.S. Team as they look for their third consecutive victory in the competition after lifting the cup at Plainfield Country Club (2017) and The Royal Melbourne Golf Club (2019).
On the International Team, Colombia's Velasquez is the first player from Latin America to qualify for the Junior Presidents Cup, sitting as the highest-ranked player in the World Amateur Golf Ranking™ (WAGR) who was not otherwise qualified as of Sept. 8.
Velasquez, who hails from the city of Bucaramanga north of Bogota, won three junior tournaments in Colombia in 2022 and finished no worse than 12th in eight total events. In June, Velasquez represented Colombia as a member of the Junior National Team at the Toyota Junior Golf World Cup in Tokyo.
Nine countries are represented among the International Team, with Indonesia, South Africa and New Zealand fielding two players each; one player from Australia, China, Colombia, Malaysia, Thailand, and Trinidad and Tobago will also be represented.
Colombia, Malaysia, Trinidad and Tobago are represented in the Junior Presidents Cup for the first time.
Three-time Presidents Cup participant Tim Clark (2003, 2005, 2009) will captain the International Team as they seek their first victory in the Junior Presidents Cup.
The 12-player teams for the 2022 Junior Presidents Cup are listed below:

International Team - Captain Tim Clark
WENYI DING (CHN)
ALDRICH POTGIETER (RSA)
JEFFREY GUAN (AUS)
RAYHAN ABDUL LATIEF (INO)
YURAV PREMLALL (RSA)
PONGSAPAK LAOPAKDEE (THA)
YEO BOON XIANG ANSON (MYS)
JONATHAN XAVIER HARTONO (INO)
CHRIS RICHARDS JR. (TTB)
JAYDEN FORD (NZL)
JOSHUA BAI (NZL)
JUAN VELASQUEZ (COL)
United States Team - Captain Notah Begay III
ERIC LEE (CA)
NICHOLAS GROSS (PA)
BRYAN KIM (MD)
JACKSON KOIVUN (NC)
ETHAN GAO (GA)
JOHNNIE CLARK (AZ)
MATT MOLONEY (VA)
AARON POUNDS (TX)
HENRY GUAN (TX)
PJ MAYBANK (MI)
PRESTON STOUT (TX)
CARSON KIM (CA)
Click here for complete Junior Presidents Cup Team Standings.
The 2022 Presidents Cup will be held at Quail Hollow Club, September 20-25. For more information about the Presidents Cup, or to purchase tickets, please visit PresidentsCup.com. For 2022 Junior Presidents Cup information, visit AJGA.org.