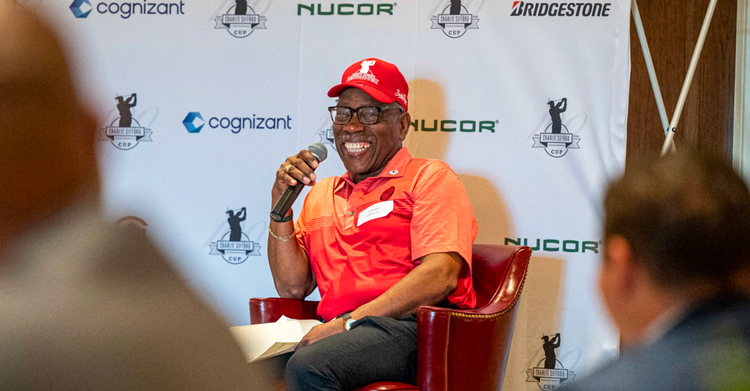 PRESIDENTS CUP ANNOUNCES $25,000 DONATIONS TO EACH HBCU TEAM COMPETING IN CHARLIE SIFFORD CENTENNIAL CUP
PGA TOUR contributes $25,000 to Dr. Charles L. Sifford Scholarship in honor of year-long Centennial celebration
CHARLOTTE, North Carolina – At a welcome reception for the six teams competing in the inaugural Charlie Sifford Centennial Cup at Quail Hollow Club, the Presidents Cup announced that each participating men's golf program will receive a $25,000 donation from the event. In addition, the PGA TOUR announced a $25,000 contribution to the Dr. Charles L. Sifford Scholarship, which helps fund college costs for students who attend a Historically Black College and University (HBCU), or for minority students focusing their education on a golf management program. The announcement comes on the heels of a 2022 campaign in which the TOUR has honored Dr. Sifford's legacy through a number of initiatives at events spanning the country.
The Charlie Sifford Centennial Cup is presented by Bridgestone, Citi, Cognizant and Nucor.
The Charlie Sifford Centennial Cup will feature host Johnson C. Smith University and five other HBCUs competing in a Presidents Cup-format exhibition on Monday, August 29, at Quail Hollow. Howard University, Florida A&M University, Alabama State University and Texas Southern University are the four Division I HBCU teams to qualify, while Livingstone College qualified as the top Division II HBCU program during the 2021-22 season. The qualifying schools were solidified via the Golfstat Ranking in May.
"On behalf of the Presidents Cup, we are thrilled to announce today's donations to these tremendous HBCU programs ahead of what should be an exciting, first-of-its-kind event at Quail Hollow Club," said 2022 Presidents Cup Chair Johno Harris. "Since day one, the goal for the Charlie Sifford Centennial Cup has been to create a showcase opportunity for these talented student-athletes, while honoring Dr. Sifford and his impact on our community and the professional sports landscape."
The Dr. Charles L. Sifford Scholarship is open to any student who is or will be attending college. The goal of the Scholarship is to help support college students who qualify, as they pursue their professional career of choice. The Scholarship is hosted by the Cobbs Creek Foundation, as a partnership between the estate and Sifford's home golf course, Cobbs Creek.
Dr. Sifford, who would have turned 100 on June 2 of this year, was the first Black golfer to hold membership on the PGA TOUR, breaking through unthinkable barriers to win the Greater Hartford Open in 1967 and the Los Angeles Open in 1969. He was inducted into the World Golf Hall of Fame in 2004 and received the Presidential Medal of Freedom in 2014. In commemoration of his centennial, the TOUR and its tournaments have hosted observances throughout the year to honor a champion whose contributions have made golf and the communities in which it's played a better place.
Sifford was born and raised in Charlotte, gaining his entry into the game through caddying before moving to Philadelphia at the age of 17. The Dr. Charles L. Sifford Golf Course at Revolution Park, just minutes from Uptown Charlotte, is home to the Johnson C. Smith golf teams, as well as the First Tee – Greater Charlotte.
In addition to the Charlie Sifford Centennial Cup, the Presidents Cup will host a Leadership Summit during event week on Wednesday, September 21. The Summit will highlight representatives from Bridgestone, Citi, Cognizant and Nucor, as well as other leadership executives from the world of sport, and presidents from HBCUs, with an in-depth discussion focused on DE&I efforts at the intersection of sport and corporate America, and the integral role HBCU programs can play in the growth and success of those efforts.
Team competition in the Charlie Sifford Centennial Cup will begin at 7:15 a.m. ET tomorrow morning, with Singles competition slated to begin at 11:30 a.m. and a closing ceremony at approximately 5:15 p.m. Players will be divided by school into two teams of 12 with one named for Sifford's son, Charlie Sifford, Jr., and the other for Charlotte native James Black, who played a key role as a trailblazer for Black golfers chasing their PGA TOUR dreams. Media are invited to attend the event starting at 11 a.m., with players, coaches and Presidents Cup leadership available for interviews throughout the day.
The 2022 Presidents Cup will be held at Quail Hollow Club, September 20-25. For more information about the Presidents Cup, or to purchase tickets, please visit PresidentsCup.com.